TULUM RETREAT IS SOLD OUT!!!!! Please contact me for the waitlist.
Join me for a yoga adventure and deepen your practice in a beautiful destination. Nourish yourself with delicious local cuisine, and take an excursion.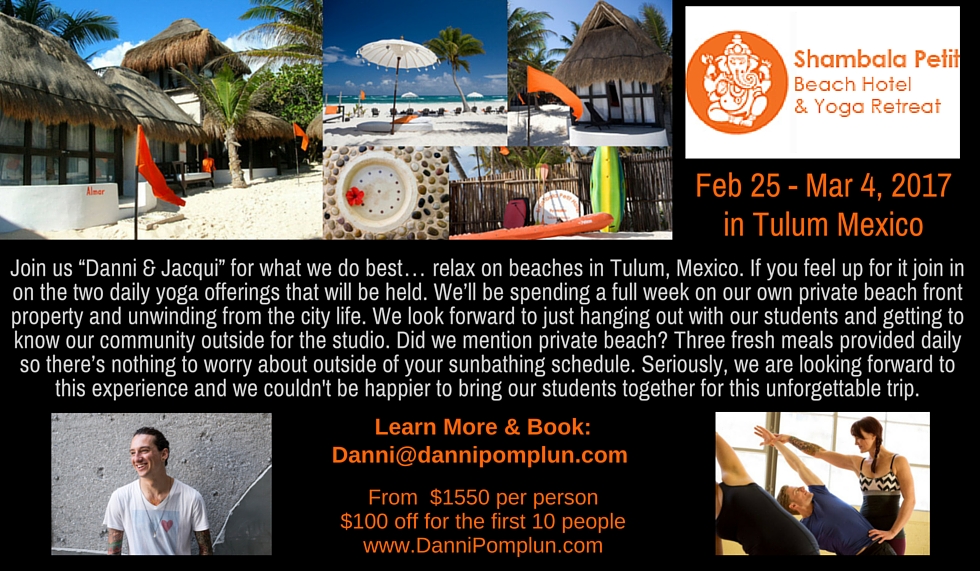 All pricing is per person, based on double occupancy in a private casita (3 meals a day included). Feel free to come solo and we will partner you with someone awesome. We will offer two yoga classes a day, and you will have ample free time for exploring or lounging beachside. (Flights not included)
Accommodations
(SOLD) Casa Que Canta- Loft and ocean view $1650
(SOLD) Casa Eolo- Loft and ocean view $1650
(SOLD) Casa Radha $1550
(SOLD) Casa Ganesh $1550
(SOLD) Casa Almar $1550
(SOLD) Casa Satya- Bathroom in private patio $1550
(SOLD) Studio Casa Albaba $1550
(SOLD) Casa Nataraj $1550
(SOLD) Casita Krishna- outside bathroom $1350
Want to check out our sweet living space for the week?  www.shambalapetithotel.com
Payment Plan
A $350 non-refundable deposit is required upon registration to secure your space. Full payment is due by December 31st, 2016. Pay in full or inquire about a payment plan.
Payment Options:
Pay via Venmo
@Dannipomplun
Pay via PayPal
Pay to dannipomplun@gmail.com
Send using Friends/Family option. (NO FEE)
If you send via service, there will be a 3% fee added to the cost.
Cancellation Policy
We understand that unforeseen circumstances can occur. There is a non-refundable $350 deposit. If we are able to fill your space we will gladly reimburse you, less any fees we cannot recover. However, if we cannot fill your space, no refunds can be given. We always recommend the purchase of travel insurance just to be safe. No refunds after November 31st, 2016.